Oase FiltoSmart 300
Description
1000lph, 1.1m max head, 23 watts, suitable for aquariums up to 300 litres max.
288 x 179 x 428mm (L x W x H cm)
Suit aquariums up to 300L
Flow Rate 1000 L/H
Filter Volume 6.4L
Pre-filter Volume 1.5L
Head Height 1.5m
Connection 16/22mm
Tubing Length 2.5m
Wattage 23 W
Power Cord Length 1.8m
Compatible with Oase HeatUp 300 Aquarium Heater.
The FiltoSmart is a compact external canister filter for aquariums.
Using the FiltoSmart filter you can achieve crystal-clear water thanks to large surface area and multi-stage mechanical biological filtration.

Multi-staged mechanical, biological, and chemical filtration provides clear, healthy water and a high surface area for beneficial bacteria to colonize.



No mess maintenance.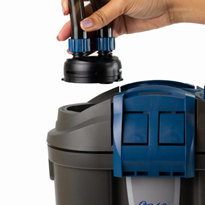 Locking features are integrated into the inlet/outlet connection unit to ensure no water leaks during maintenance.

Self-priming
Engineered for fast and easy startup and continued operation.
Adjustable flow control
Flow can be adjusted for the inlet and outlet.
Quiet operation
Sound dampening design.
Heater integration capability
Easily integrate an OASE HeatUp adjustable heater into the FiltoSmart canister using a ThermoFit
(HeatUp and ThermoFit not included).


Made in Italy, backed by German engineering
Fresh and marine water compatible
UL certified filter
3 year warranty


Suitable for Freshwater and Saltwater

PDF Product Instructions